This piece came to me via email and it is definitely worth a more public setting and viewing. May God bless you all on this day of Thanksgiving and Praise!
photo by Mary R. Vogt
Thanksgiving and Praise Day
You've probably seen them, too. Herds of Christmas trees: green, perfectly shaped, huddled together, standing shoulder to shoulder in a temporary makeshift corral consisting of a droopy string of bare light bulbs strung from four corner poles that always appear as if they are about to fall down.
I was returning from a wonderful matinee play watching my son perform on stage when I spotted the year's first herd. My immediate thought was that it was way too early for Christmas trees to have migrated into town. After all, it was still a week until Thanksgiving, for heaven's sake!
I think something has caused a dramatic shift in the migratory patterns--they don't match our calendars anymore. Easter bunnies now appear in February and pumpkins show up in late August. I'm feeling more and more confused. I actually felt some disorientation last month when I walked into a department store and saw a Santa Claus display several weeks before Halloween.
We live in a world of severe overlaps.
The University of Michigan finished its last scheduled football game on Saturday, but the season won't end. No, the players and coaches will sit around for nearly two months hoping to play in the championship game the second week in January, which is about the time college basketball, which started at the height of football, will be gearing up for its March Madness. The NBA now runs from October to June, and the Super Bowl is now in February, when Major League Baseball is starting spring training.
You can buy oranges and bananas all year round.
The point of this is that the commercialization of everything puts in danger the meaning of anything. We are about to breeze through a day that has been set aside for giving thanks. Not that we shouldn't be doing that every day, but our nation recognized that we owed a formal day to acknowledge the source of our blessings and to give the thanks due to Almighty God for his grace.
As you sit around the table this Thursday, you may wish to read from the Scripture your favorite verse that expresses the truth that God is the original Giver and that we owe Him a full heart of thankfulness.
You may also want to read the text of Abraham Lincoln's proclamation in which he originally declared this national holiday. Unfortunately, the world would find it to be offensive today.
P.S. You may be surprised to note that Abraham Lincoln called for a day of "Thanksgiving and Praise." Truncating this to simply "Thanksgiving Day" has made it easier to leave God out of the celebration.
Proclamation of President Abraham Lincoln

The year that is drawing towards its close, has been filled with the blessings of fruitful fields and healthful skies. To these bounties, which are so constantly enjoyed that we are prone to forget the source from which they come, others have been added, which are of so extraordinary a nature, that they cannot fail to penetrate and soften even the heart which is habitually insensible to the ever watchful providence of Almighty God.

In the midst of a civil war of unequalled magnitude and severity, which has sometimes seemed to foreign States to invite and to provoke their aggression, peace has been preserved with all nations, order has been maintained, the laws have been respected and obeyed, and harmony has prevailed everywhere except in the theatre of military conflict; while that theatre has been greatly contracted by the advancing armies and navies of the Union.

Needful diversions of wealth and of strength from the fields of peaceful industry to the national defence, have not arrested the plough, the shuttle, or the ship; the axe had enlarged the borders of our settlements, and the mines, as well of iron and coal as of the precious metals, have yielded even more abundantly than heretofore. Population has steadily increased, notwithstanding the waste that has been made in the camp, the siege and the battle-field; and the country, rejoicing in the consciousness of augmented strength and vigor, is permitted to expect continuance of years, with large increase of freedom.

No human counsel hath devised nor hath any mortal hand worked out these great things. They are the gracious gifts of the Most High God, who, while dealing with us in anger for our sins, hath nevertheless remembered mercy.

It has seemed to me fit and proper that they should be solemnly, reverently and gratefully acknowledged as with one heart and voice by the whole American people. I do therefore invite my fellow citizens in every part of the United States, and also those who are at sea and those who are sojourning in foreign lands, to set apart and observe the last Thursday of November next, as a day of Thanksgiving and Praise to our beneficent Father who dwelleth in the Heavens. And I recommend to them that while offering up the ascriptions justly due to Him for such singular deliverances and blessings, they do also, with humble penitence for our national perverseness and disobedience, commend to his tender care all those who have become widows, orphans, mourners or sufferers in the lamentable civil strife in which we are unavoidably engaged, and fervently implore the interposition of the Almighty Hand to heal the wounds of the nation and to restore it as soon as may be consistent with the Divine purposes to the full enjoyment of peace, harmony, tranquility and Union.

In testimony whereof, I have hereunto set my hand, and caused the seal of the United States to be affixed.

Done at the city of Washington, this third day of October, in the year of our Lord one thousand eight hundred and sixty-three, and of the independence of the United States the eighty-eighth.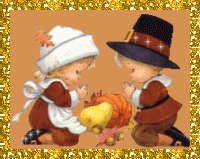 .:*~*:._.:*~*:._.:*~*:._.:*~*:._.:*~*:._.:*~*:._.:*~*:._.:*~*:._.:*~*:.
~1 Thessalonians 5:18~ Give thanks to God in all circumstances (no matter what they may be), for this is God's will for you (who are) in Christ Jesus.
Thankful Thursday: What Nic is thankful for this week
My wonderful daughter who is the light of my life

A job that I enjoy immensely and have in this economy when there are very few jobs for a single mother to make a living wage at.

My mom who is my rock, my anchor, my support and my best friend

Friends who love you and are there for you no matter what

The freedoms in this country that we enjoy and the men and women in uniform who sacrifice daily to allow us to have those freedoms.

Dear blogfriends who, though far in geography, are close in heart.

The ability to have a relationship with God, knowing that He is there for us no matter the circumstances.

(If you participate, leave your link in the comments and I'll post it below; or, you can post in the comments)

Click here for the Thankful Thursday code

Click here for Chrixean's blog

Trackbacks, pings, and comment links are accepted and encouraged!

View More Thankful Thursday Participants

Happy Thanksgiving and Praise Day!
Of course, to get you started on the Black Friday shopping, check out this awesome site that lists the ads of several stores out there and they monitor the ads and every new one that comes up, as soon as it is out the post it. You can find it at
BlackFridayAds.com
.